Hello Friends,
As 2020 comes to a close, I've been thinking quite a bit about my experience this year. I experienced 2020 from a variety of perspectives - as a minority woman, a mom, a wife and a business owner. Each of of these roles has shaded my perspective of this year and given me a different framework from which to consider everything that I experienced. I want to share a little bit about what 2020 was like for me as a small business owner.
I think back to a year ago today: I was closing out the most successful year in my business by far. I had achieved so much of what I set out to do at the beginning of 2019 and I was feeling as though I had finally arrived at a place where I could be comfortable in my success. I was going to start finally paying myself a regular salary. I was thinking about hiring my next employee and I was excited about all of the ways that Silver + Salt could grow in 2020.
At the end of January 2020, I took myself on a retreat to recharge for the coming year. I remember sitting in my hotel room in Sedona, Arizona and talking to my husband, Shawn, on the phone. He was asking me if I had heard about this new virus in China and saying that it might impact his ability to travel to Barcelona for a big trade show at the end of February. That was our first conversation about COVID-19 and little did I know what was in store for us at that time.
By February, Shawn's trip to Barcelona was indeed cancelled. He was working from home full-time and there were rumblings about lock-downs and school closures. By March... well, we all know what happened.
I remember coming to studio on the day that the lockdown was announced. I packed up all of the metal, the gemstones, the plants and took everything home with me. I wasn't sure when I'd be back to my little store. My heart was breaking. I was scared and I was angry. This was 100% not part of my plan for 2020.
But life rarely respects our plans, does it? Thinking that this would be a short-term situation, I resolved to make the most of it. With Laura handling production from her home studio, we set out to create one-of-a-kind collections using my large stash of gemstones and other materials that I already had on hand. One of my original 2020 goals was to boost my social media and sell more online. I chose to view the pandemic as forcing me to make good on that goal.
But, this wasn't a short-term situation. As the days/weeks/months dragged on, I grew tired. You guys, it's HARD to hustle everyday. It's HARD to engage online everyday. It's HARD to be separated from your team, to only see them online or from behind masks. It's HARD to remain creative and energized in business when you are guiding an 8 year old through online school and missing his friends and when you, yourself, are missing your friends too.
I grew angry. WHY was this happening? This was supposed to be the year I relaxed in my success and focused on growing in new and exciting ways. It was not supposed to be the year where I had to fight day-to-day to keep my business afloat. I started to ask myself why I was doing this. Why was I fighting so hard? What did my business give me that made it worthwhile to deal with so much stress, fear and heartache. There were many days when I would scream and rant and exhaust myself with anger and fear over the state of our world. The pandemic, politics, the social injustice - all of it was too much. I felt like there was no escape, no way to relax.
I began to imagine life without Silver + Salt. What if I just closed? What if I just said "thank you" to the amazing experience it was, but gently let it go?
Reader, I couldn't do it. For as long as I can remember, THIS is what I have always wanted to do. I have always wanted to be a maker. I have always wanted to bring joy to people's lives by owning a little store where beautiful things are made and sold. There are plenty of things I could do, but nothing that I wanted to do. This dream of mine was still worth fighting for.
And so, here I am. It's December 31, 2020 and I'm sitting in my store, writing these thoughts and recommitting myself to this life. At the same time, I want to do it in a different way. I want to do it in a way that centers me as a maker and a mom and allows me to enjoy my work while still leaving me with space to be present for myself and my family.
2021 will be a different year. I am not setting any achievement goals. There's no sales target. There's no expectation that this year will be more successful than last in any way that you could evaluate in numbers. There is only this: a desire to center my creative voice, to let go of outside expectations and to allow this business to feed my soul in the way that I know it can. How lucky am I to be living my one, true dream? How sad would it be to waste that good fortune by allowing fear, doubt and stress to take over? I'll be taking things slow for the first part of 2021. I feel a strong need to deep clean my studio space and to refresh it to reflect the changes in my business and where I want to go creatively. Taking the time clear out the space and put it back to together again is a bit scary. But, the desire to do it is so strong that I know it is a key part of my journey.
I'll close with this: THANK YOU! Thank you for your support this year. Your orders, your messages, and your visits to the studio sustained me and helped me to keep going. I found strength and comfort in you and when I look back on this year, I know one of the things I will remember is all of you and the jewelry you took out into the world that hopefully brought you joy.
Wishing you strength and love in 2021.
-Christine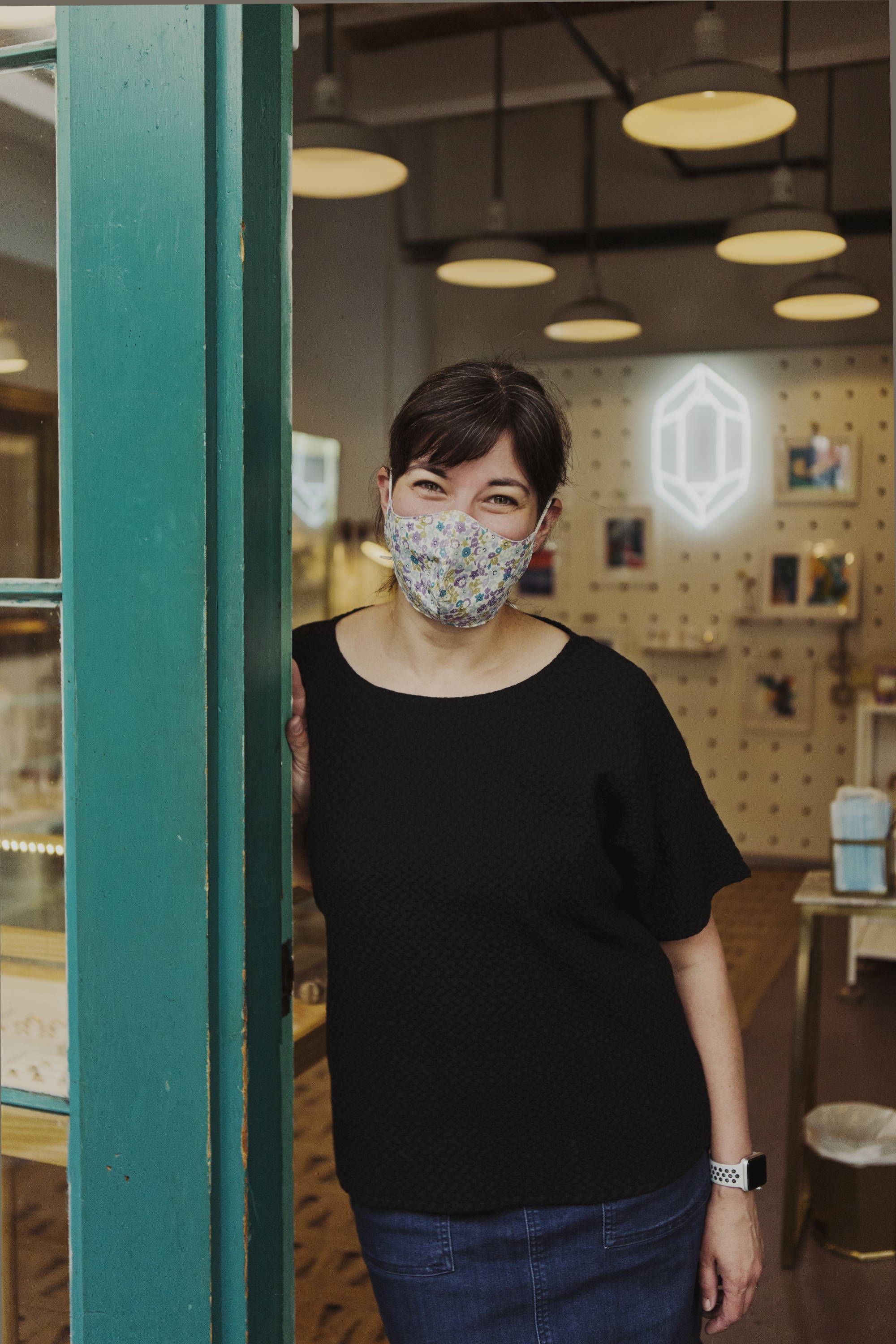 ---
2 comments
---
---