My Statement on Black Lives Matter
Hello Friends,
It's been an extraordinary week in an extraordinary year. The murder of George Floyd and the uprising that has followed has had a profound impact on me. I took this past week to absorb everything that's happening and think about what I need to do next.
I don't talk much about my background. I was born in Puerto Rico to Puerto Rican parents. When I was a baby, we moved from Puerto Rico to New York City. My parents had a little apartment in the Bronx. One day, my dad was stabbed and nearly died. My mom packed everything we owned (not much), bought two bus tickets and took me to Tacoma, Washington. She thought it was a place where we would be safe. My dad followed a little while later (minus one kidney, which had to be removed due to the stabbing) and we all started fresh.
I grew up in a very white part of the country. I can't say that I have ever been the victim of discrimination, but I remember my parents experiencing it when I was young as they did everything they could to provide for me and my younger sister and give us the best possible chance to be successful in our lives.
I am light skinned. Every once in a while, someone will look at me and say "what are you?" as if they can tell that there's something different about me, but they aren't sure what. I have often felt that I lived in a fuzzy area in between two worlds. Am I Hispanic? Am I white? I guess you could say I had a choice over which aspect of myself I could emphasize in my life. Over this past week I have finally come to acknowledge that I have embraced my light skin and the privileges that it has brought me to move through life comfortably, unchallenged and without a full appreciation for the challenges and trauma that people of color face on a daily basis. Throughout my life, I have been able to leverage my appearance to my benefit in a society that is built to ensure the success and comfort of white people.
I am ashamed of this. I know that I have a lot of work to do. It is far past time for that work to begin. So here's what I am going to do.
First, I will state that I believe unequivocally in equality. Black people have been oppressed in our society. Systemic racism exists and must be abolished. This work will cause all of us who benefit from latent and overt white supremacy to feel uncomfortable. We must lean into that discomfort in order to effect true change.
I believe that change begins at the local level and moves upward. I pledge to give a minimum of 10 hours per month of my time to grassroots, local activism. I will begin attending the local meetings of my state legislative district. I will call, text and knock on doors to support candidates of color locally and nationally.
Silver + Salt will immediately provide 20 hours per year of paid volunteer time to our team to encourage volunteer work in the causes that they believe in.
Silver + Salt will begin the process to fund a scholarship for women-identifying makers of color in the jewelry trade. I still have work to do to determine the specifics of how this will work. The jewelry trade is dominated by white voices. We will do what we can to increase diversity in the industry not only by encouraging makers of color, but by actively seeking suppliers, partners and vendors who are owned by people of color and who share our values on social justice and equality.
I am also opening my door as a mentor to women-identifying makers of color who are starting out in their careers and want support. If you are a small, handmade business and want to talk, I am ready to help. I can accept 3 makers for a free 3 month mentorship. Applications will open soon, so stay tuned for that.
All of this is just the beginning of my efforts to change and bring change. I pledge to continue to share updates on my efforts. This is not a single moment where we can simply say some words and move on. It is the first step on a long journey that we must travel, hand-in-hand, with those whose lives depend on change.
In solidarity,
-Christine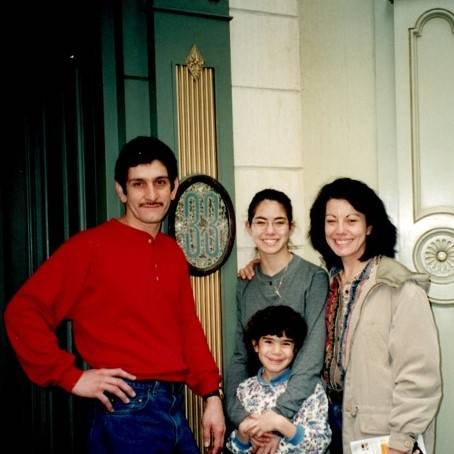 Me and my family when I was probably 17 or 18 years old. 
---